A few positive signs from the data on Israel's fight against the coronavirus:
Test positivity is down
The percentage of tests that come back as positive for the coronavirus is one of the best measures of how widespread the real infection is likely to be.
In late July, Israel was hitting 8% average positivity, but this has dropped down to a little over 6% now. The drop coincides with a drop in new confirmed cases, which suggests that it's real.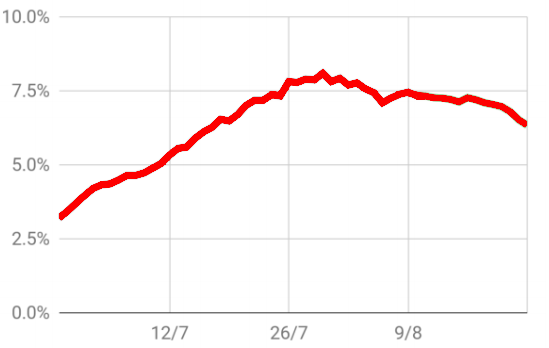 The test positivity calculation only includes tests given to identify infected people. It doesn't include tests given to people we already knew had the virus, which are now mostly only given to seriously ill people in hospitals anyway. However, it does include survey testing in old-age homes, medical staff etc.
According to Health Minister Yuli Edelstein, if survey testing is excluded then the real positivity rate as of a week or so ago was closer to 10-11%. The number of survey tests isn't published so I can't say if the graph above partly reflects a shift in the type of testing or not. But I hope that that the positivity drop isn't just an artifact of increased survey tests.
Haredi towns are doing better
Throughout both waves, Haredi populations have been the epicentre of Israel's Covid-19 infections, and Haredi Jews made up 36-39% of all new diagnosed cases, three times their population share.
Haredi towns were consistently the worst infection sites even as recently as a week and a half ago, with Modiin Illit at 27.5% test positivity and 1.5% of the town with active infections, while Elad, Beitar Ilit, Rechasim and Bnei Brak had around 20% positive tests too.
That picture seems to have changed. There are now no Haredi towns with 20% positivity. Modiin Illit is down to just 6%, with Elad and Bnei Brak to 10%.
It's now a few Arab towns that are now the places with the highest positivity, but these are not at the same level of case positivity that the Haredi towns saw a few weeks ago and the absolute number of cases in those towns is also small.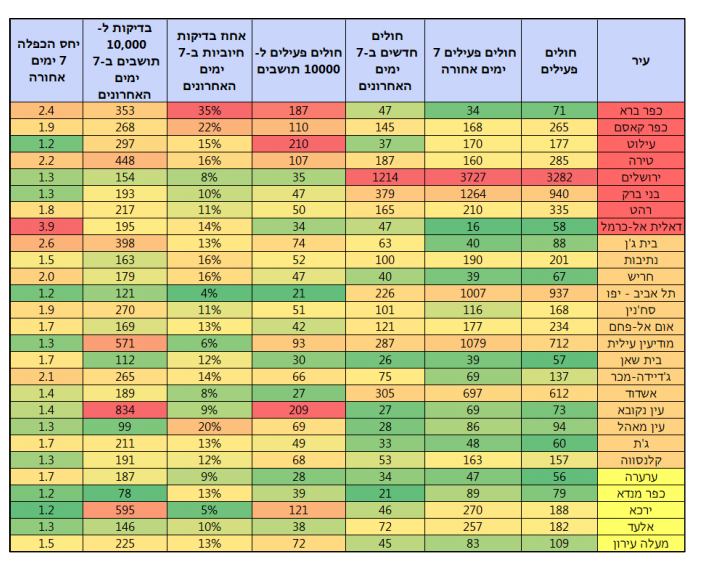 So overall it looks like Israel's second wave is tending downwards. If things stayed the same, we could keep things under control.
Of course, things are not staying the same. Haredi schools reopened last week, and the rest of the school system will follow next week. Larger cultural events will be allowed, and the High Holy Days are coming with their large family meals and synagogue attendance. I would expect cases to begin to climb again by mid-September. But these few weeks of dropping cases should, at least, buy the country a bit of room to manoeuvre.