Conservatives. Labour. Liberal Democrats. Scotish National Party. UKIP.
Boring.
Luckily, there are loads of parties standing candidates in the UK's 2015 General Election. Here's the 20 most interesting, funny and crazy-sounding parties, taken from this rather longer list of all 'micro parties'. Read on:
1. (An) Independence From Europe
This breakaway party from UKIP founded by former MEP Mike Nattrass is best-known for having a silly and confusing name, stealing an old UKIP ad in 2014, and for confusing some UKIP voters into voting for it by mistake.
2. Above and Beyond – Demanding a New Vision for Politics – Trying To Fix A Broken System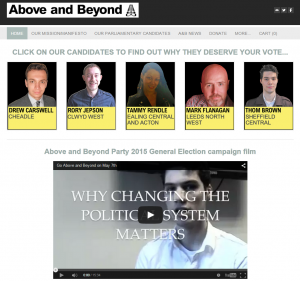 The Above and Beyond Party has the longest full name of any of the parties, a logo, a website ( that can be designed by using Collectiveray ) and is contesting 5 seats. It has only one policy – that there should be a "none of the above" option on General Election ballot papers and that this would fix politics, somehow.
3. Al-Zebabist Nation of OOOG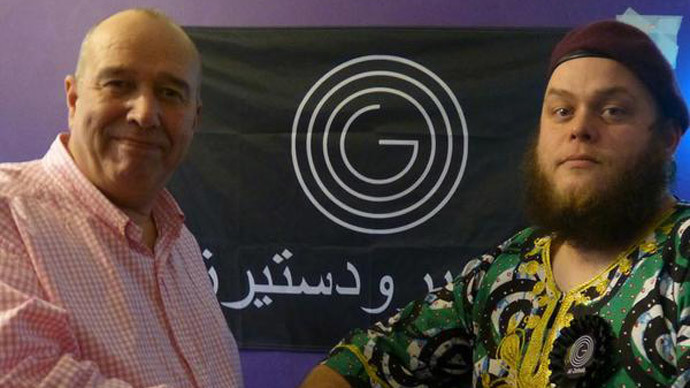 The party with the strangest name, the Al-Zebabist Nation of OOOG claims to be a "registered political party and growing religious movement" with a "divine mission to free the Afro-Thanetian Zaliphate from the grips of Broadstafarian and English hegemony" and urges "Renounce Your White Skin". Russia Today profiles the party:
'Led by Prophet Zebadiah Abu Obadiah, real name Robert Bealer, the Al-Zebab party is campaigning for the separation of Thanet from England, the banning of "hetro-marriage," the legalization of heroin and the consumption dog meat.

One of their most controversial policies calls for the complete eradication of Broadstairs, a small coastal town in Thanet, which Al-Zebab says is rife with "racist and fascist ideology."

The party also campaign for tax breaks for bearded families. Children and women will have to wear fake beards, Zebadiah said.'
In case it isn't clear, the whole thing is a joke designed to troll UKIP leader Nigel Farage, who is the candidate in South Thanet.
4. Beer, Baccy and Scratchings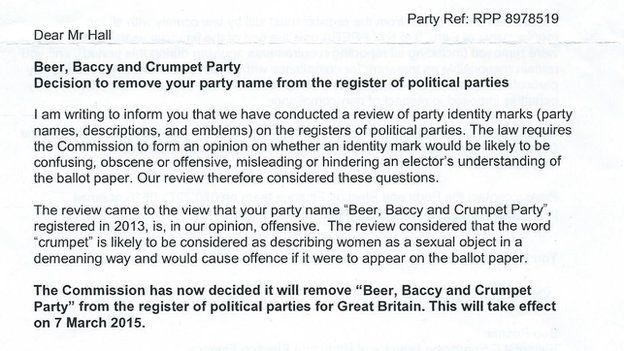 Originally the Beer, Baccy and Crumpet party, the Beer, Baccy and Scratchings party was forced to change its name because the Electoral Commission decided that the word 'crumpet' was obscene and demeaning to women. Its leader Ray Hall is contesting Eastleigh.
5. Children of the Atom
A one-man party which wants to replace all money with a new type of 'debt-free' currency and radically reduce the population. The party website claims "We are rewriting our manifesto because people just didn't get it"
6. Eccentric Party of GB
A Raving-Loony-style party running against Boris Johnson in Uxbridge. The candidate, Lord Toby Jug, is campaigning to get no votes at all, after betting against himself at 50/1.
7. Hoi Polloi
Another one-man party, Geoff Moseley is a photographer who's contesting Hornsey and Wood Green for the second time. I just liked the party name – Hoi Palloi literally means "the people".
8. Justice for Men and Boys (and the women who love them)
A Mens-Rights anti-feminist party, Justice for Men and Boys thinks that women are the problem. Policies include massively restricting abortion, banning circumcision and enforcing child-support payments when the father has signed a written agreement to support the child. But at least they have a funny and somewhat creepy name.
9. Magna Carta Conservation Party Great Britian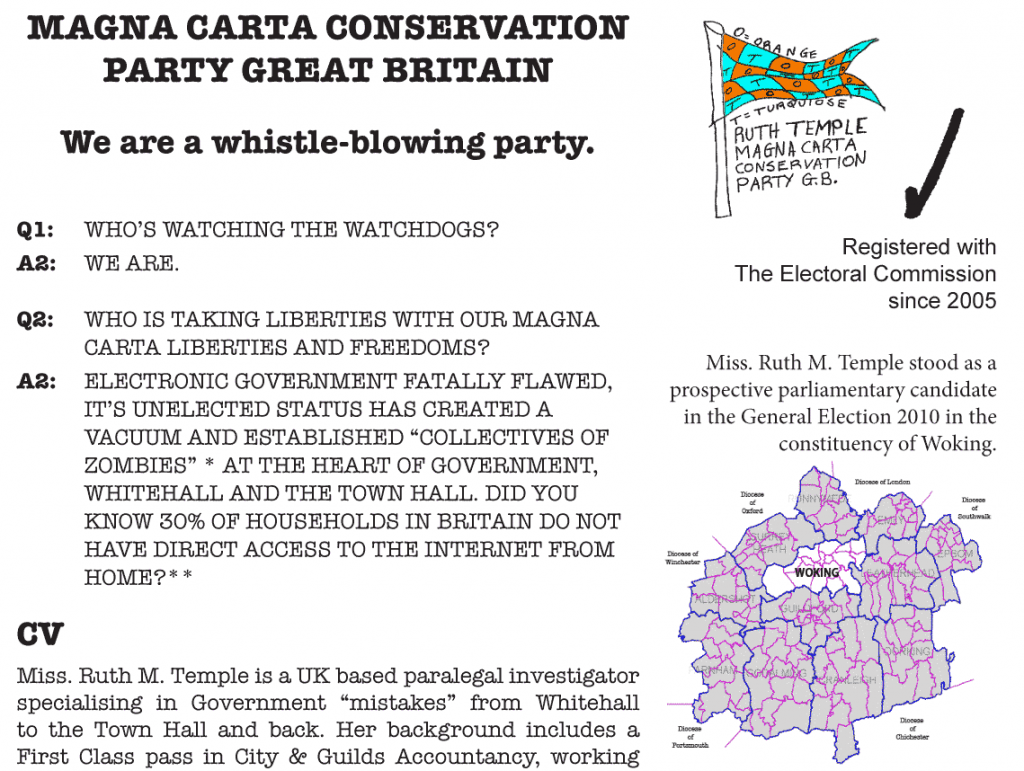 I'd hoped that the Magna Carta Conservation Party was devoted to ensuring that our few full copies of Magna Carta were properly cared for, stored in temperature-controlled rooms behind glass and perhaps restored if they got damaged. Unfortunately it seems to be one woman who's very upset about something to do with planning permission in Woking.
10. Manston Airport Independent Party
I've only included this because I originally misread the name as the Manston Airport Independence Party, which would have been much more interesting.
11. Population Party UK
Another one-man party that wants to reduce the world's population. Their party website includes a quote from the Queen ("There can be no long term stability when the rate of population growth exceeds the rate of job creation") which seems to be fictitious.
12. Removing The Politicians
Also known as "Rebooting Democracy", this party was established about a month ago by former Green candidate Keith Garrett. It aims to replace elected politicians with "a system in which we will use citizens' panels and assemblies instead of politicians, selected in a similar manner to juries, that will use evidence based policy making to work towards the country's short, medium and long term goals. These goals will be set by referendum mechanisms so we directly get to choose where we want our country to go". He's standing in Cambridge.
13. something new (nothing borrowed. nothing old. something new.)
One of the more confusing long names, Something New is another one of the '21st Century politics' parties. They have alliances with the Whigs (yes, there's a Whig party), the Pirate Party and Removing the Politicians/Reboot Democracy.
14. Stop emotional child abuse, Vote Elmo
A gimmicky campaign in David Cameron's Witney constituency, the 'party' is run by Bobby Smith who's campaigning for more access to his children. His policies include twinning Witney with Houston, Texas, so that they could put up signs with "Witney Houston" on them.
15. The Birthday Party
A vehicle for David Field aka Dave Dobbs, a South-West England campaigner who wants to encourage more engagement in politics and whose main policy is to hope for a miracle.
16. The Roman Party.AVE
Founded by French bus-driver Pascual Jean-louis, the Roman Party contests elections in the Reading area. With no website or published manifesto, I have to figure out its policies from the leader's Twitter account:
17. U Party
The U Party inspired me to write this list, after I saw it was standing a candidate in Hampstead and Kilburn. Rather uninterestingly, it seems to be a vehicle for pension lawyer Robin Ellison and wants to reform pensions.
18. The Ubuntu Party – Apolitical
The Ubuntu party was founded in South Africa last year and now seems to have branches all over the world. The UK branch promises to abolish the Bank of England and aims to awaken global consciousness to create a world without money. The party also has a conspiracist flavour; the party ran in South Africa with a Holocaust Denier highly-placed on the party list, and the UK party posts things like this:
if you had a relative in the 1st or 2nd world war its time you knew these wars were to make the banksters money, rothschilds buildersberg in a nut shell. so keep in mind there in control now. this cabal doesn't care that our loved ones are dead down to their greed.

Posted by Ubuntu Party UK on Saturday, April 25, 2015
19. Vapers In Power
This isn't the stoner party I expected. Vapers in Power is a single-issue party campaigning against restrictions on e-cigarettes, in particular the EU Tobacco Products Directive.
20. World Peace Through Song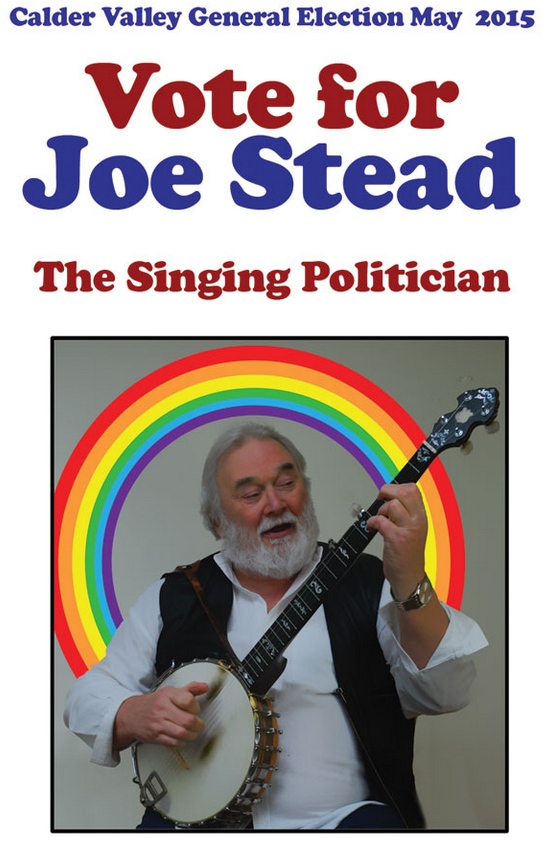 Adorable.