This post isn't about the Israeli Government's response to the Covid-19 pandemic. It's not about lockdowns and curfews. It's just summing up where we are now.
One Israeli in 400 was diagnosed with Covid-19 last week
22,870 new Covid-19 cases were diagnosed between Saturday the 5th and Friday the 11th of September. That works out to one Israeli in every 400 getting a positive coronavirus test just last week.
It's impossible to say what percentage of new infections are diagnosed each week. If we get 50% of them, which sounds optimistic, then really 0.5% of the population got the virus last week. If we pick up only a quarter of cases, then perhaps 1% of the whole country developed Covid-19 last week.
That's a a lot.
Israel's testing has hugely increased…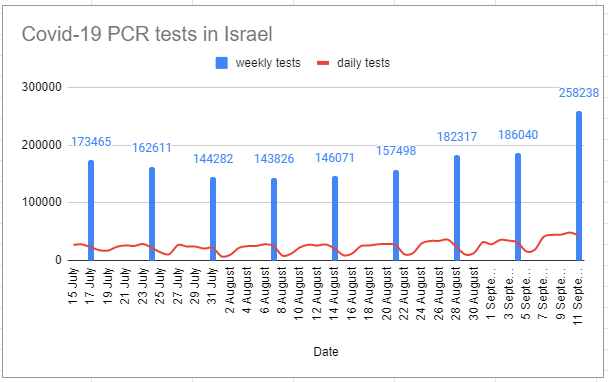 After a fall in testing in August, Israel has significantly increased its daily coronavirus testing capacity in the last couple of weeks. On a good day, more than 45,000 tests are processed, making Israel's testing per capita among the highest in the world.
…but test positivity is still very high
If Israel's increased testing was sole reason for the rise in cases, we'd expect to see a higher percentage of tests come back negative even as a higher number are positive. In fact, the opposite is happening.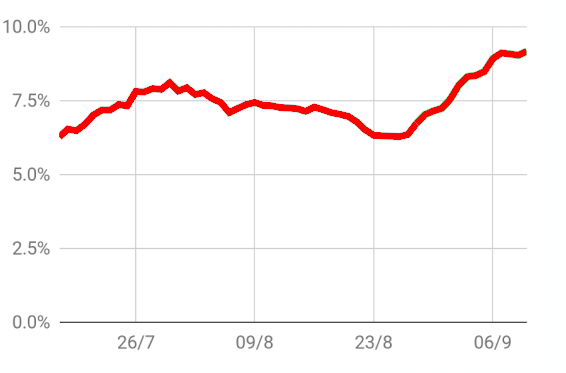 In the last week, Israel's test positivity is 9.2%, which suggests that the very high per-capita testing isn't quite high enough to keep up with the spread of the virus. The WHO recommends that any country with over 10% test positivity needs to do more testing.
Additionally, the 9.2% includes survey testing of old-age homes, which tends to skew the figures lower. The real positivity of tests on people with symptoms or known exposures is likely to be a few percentage points higher.
Hospitals are filling up
Hospital admissions of Covid-19 patients shot up in July from 200 up to 750 or so. After that, it stayed in the 750-900 range for most of August, rising and falling throughout the week.
In September, hospitals began to fill up again, crossing 1000 admitted patients this weekend.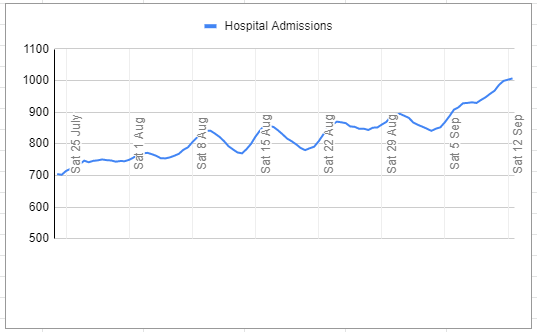 Serious cases are also increasing, nearing 500. For the first time in the second wave, ventilator use passed the peak of 137 ventilated patients seen during Israel's first wave, coming close to 150.
Note, though, that the big increase in new cases is still recent; it takes about 10 days for new cases to get serious enough to need a hospital. So expect a more significant surge in hospital numbers in the next fortnight.
Deaths remain high
In July, 234 Israelis died of Covid-19, an average of 7.5 a day.
In August, deaths were up to 384, which is 12.4 a day.
As of Friday 11 September, September's deaths are already 146, which is 13.3 a day.
Israel is currently seeing 1.44 deaths per million per day. This is high compared to Europe right now, but much lower than the peaks of the first wave in Italy, Spain, the UK or the US.