Some data and thoughts on the lockdown and what happens next.
1. The lockdown is working
All indicators now show that infections are dropping, test positivity is falling, and hospitalisations appear to have peaked, too.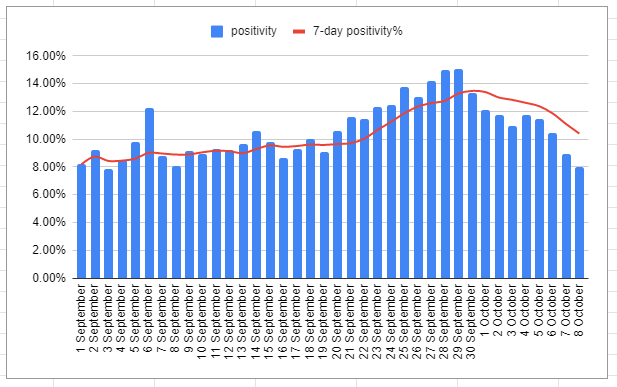 The percentage of coronavirus tests coming back positive has fallen from a peak of over 15% down to just 8% yesterday, with a 7-day rolling positivity of 10.4%.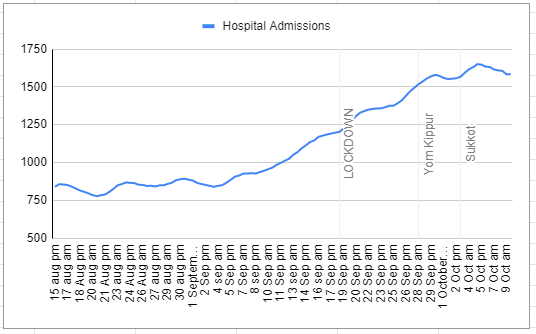 Hospital admissions for Covid-19 have levelled off and seem to be beginning to drop. Serious cases show a similar pattern, falling back to 850 after briefly crossing the 900 mark.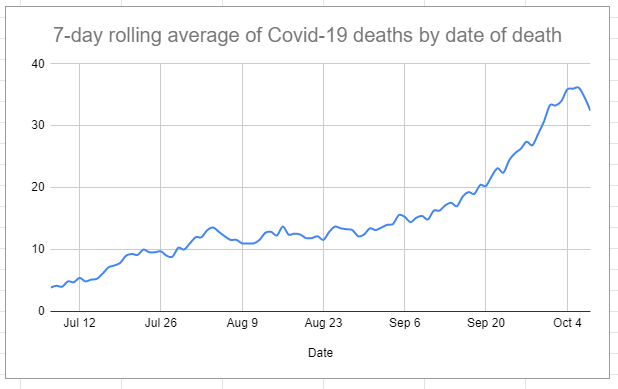 Deaths from the coronavirus might have peaked, but death reports often lag by a few days so that little dip at the end of the graph below doesn't show that just yet.
Eran Segal breaks these numbers down further by social sector.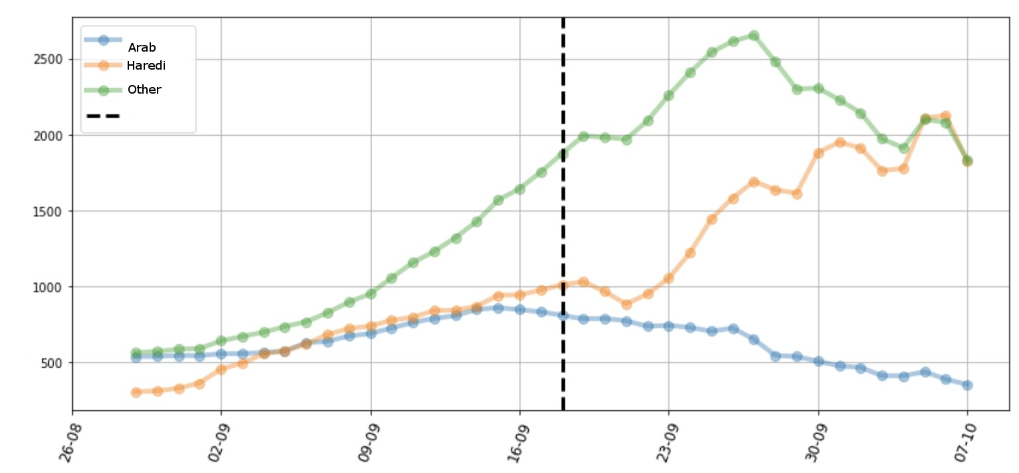 Cases in the Arab community were already falling before the lockdown and have continued to drop. Among non-Haredim, cases continued to rise for the expected ten days or so after the lockdown, and then rapidly dropped.
Among Haredim, the picture was a little different. The yeshivot were allowed to remain open during the lockdown, only closing for their regular autumn break on Yom Kippur. Essentially, the Haredi sector wasn't fully included in the lockdown. About ten days after the yeshivot broke up, infections in the Haredi community now appear to be falling too.
Note that Haredim are about 45% of all cases in Israel, despite being only 12% of the population.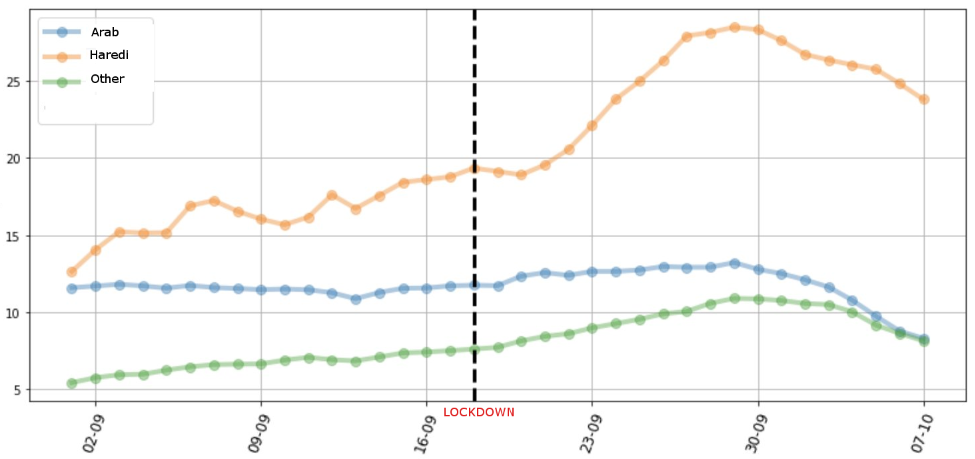 Looking at test positivity now, in the non-Haredi public it's converged at about 7%.
Test positivity among Haredim has also fallen, from nearly 30% to just under 25%. This high positivity suggests that there's still systematic under-testing in the Haredi community.
So it's all good news, right?
Well…. mostly, yes. But there are some things to consider.
2. Testing is down
After regularly testing close to 60,000 people a day in September, testing seems to have fallen back to just 50,000 a day.
This makes some sense. In a lockdown, people should have fewer contacts, so every new confirmed coronavirus case should be sending fewer other people into self-isolation, meaning fewer tests.
Except I wonder if the testing drop might be disproportionately among younger Haredim, who are the group with the highest test positivity. Haredim are less likely to get a virus test on the Sukkot festival anyway, but in particular, Haredi boys and young men were tested in their Yeshivot as a part of the "capsule deal". But they aren't in yeshiva now.
The picture really is improving, but I suspect some of the improvement in case numbers and positivity is caused by this change in testing patterns. I've seen some anecdotal evidence for this being true.
3. Our incidence is too high to reopen
In my last article I wrote about Israel's R budget. When case numbers are high, we can't reopen until they get low again. And it's going to be a few more weeks before they get low again.
Throughout August we had about 1500 daily cases. That wasn't low enough to enable schools to go back in September, we now know. So I reckon we probably need to target a daily incidence of around 500 cases before considering significant relaxations of the rules. And we're a long way from 500 cases a day.
4. Yeshivot are reopening on Monday, regardless
As I mentioned, yeshivot are exempt from the lockdown. The government was considering requiring them to close, but the meeting that can make the decision was delayed until Tuesday. Some yeshivot return the day before, Monday.
It's pretty clear from the data that yeshivot are a big part of why we're in a lockdown now. The R cost of yeshivot is high. One report says that a quarter of yeshiva students caught the coronavirus since they reopened in August, but that leaves plenty who will likely catch it when they return.
Israel has begun to turn things around. A few more weeks and we can reopen some things like kindergartens and primary schools. But with yeshivot opening in just three days, unfortunately I expect cases to begin to rise again by the end of October and the possibility of a third lockdown by December seems worryingly high.
(If you didn't read my last piece on how Israel should be managing the pandemic via an R budget, I was proud of it and I think it's worth a go!)