Six weeks after Israel went into a second lockdown, and 10 days after the most significant restrictions were lifted, it really looks like a success.
Cases
Daily coronavirus cases peaked about 12 days after the lockdown, and then fell rapidly.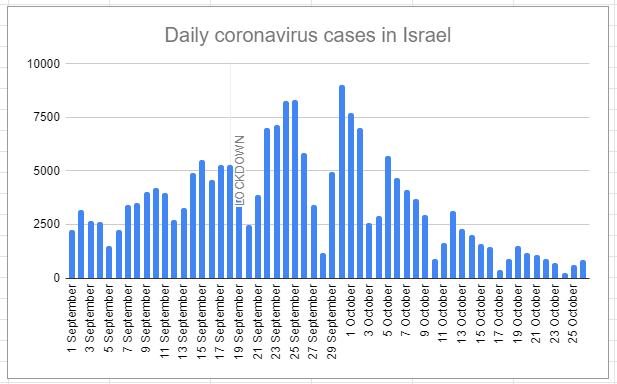 As the number of daily cases fell, so did testing. This is actually expected, because there are fewer sick people and therefore fewer people exposed to a sick person. Testing has dropped significantly from the peak, but it remains fairly high.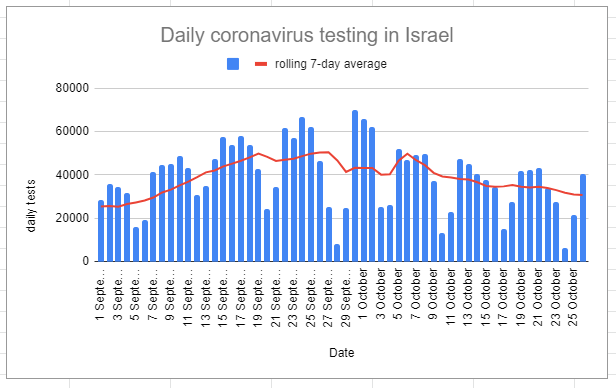 The drop in cases, though, isn't due to a fall in testing, because the percentage of positive tests has fallen even more sharply, from a weekly rolling positivity of almost 12% at the height of the second wave, down to just 2.7% today. That's a huge improvement, even if some of that is caused by a higher proportion of survey testing.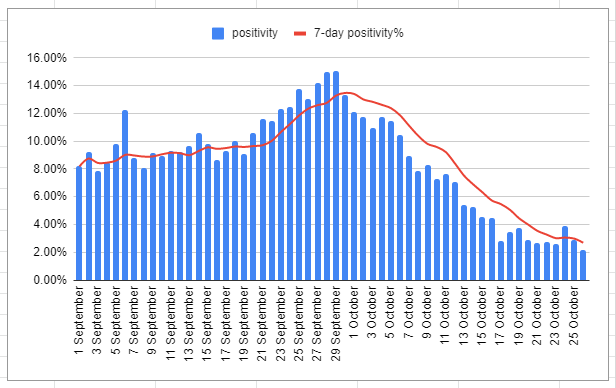 Hospitals
It takes longer for hospitalisations to drop. Serious cases can be in hospital for weeks, and it takes time from catching Covid-19 to actually need hospital in the first place.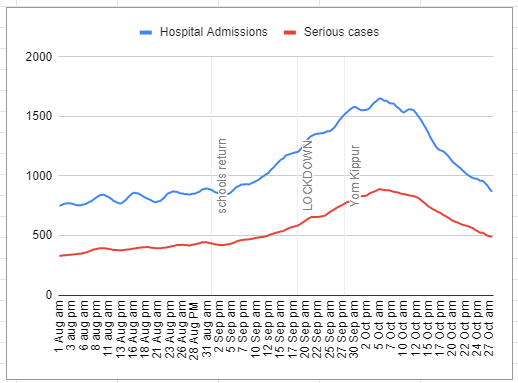 Hospitalisations rose massively in September, but dropped sharply 3 weeks after lockdown. I've been surprised at how fast they've dropped, actually, especially this week. Hadassah has closed two coronavirus wards and other hospitals are winding down too, while keeping capacity ready in case a third wave comes.
There are now fewer cases in hospital than there were for much of August. Serious cases are taking longer to fall, as they include patients who might spend months on ventilators.
Deaths
The most lagging indicator is deaths from Covid-19. Over August, Israel had a grimly steady average of about 11-12 deaths a day. In September, that jumped until the death toll was almost 40 a day!
The death rate only began to fall a week and a half ago, pretty much when the lockdown was lifted, and it is nowhere near the rate we saw over the summer. That said, I expect it to drop rapidly over the next week to below 10 a day by mid-November.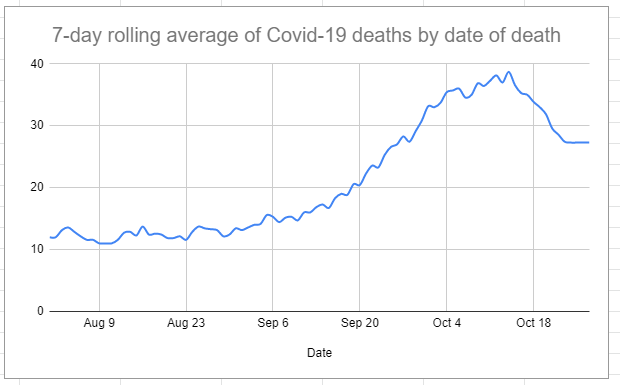 The lockdown worked
The key point here is that the lockdown worked. In mid-September, Israel had the worst coronavirus rates in the world. Now, five weeks later, it looks better than much of Europe and the United States.
Some things are going to be closed for a while. I don't see weddings or large cultural events coming back soon, and restaurants are going to be limited in customer numbers. But most of the economy will is either open or planned to reopen in the next couple of weeks.
Schools remain more of a challenge, especially for older kids, and maybe that part – all the home learning – isn't sustainable. I guess we'll see.
But for my British readers, Israel's lockdown never banned outdoor gatherings. It limited them to 20 people, no rules of six or two. Parks were left open, too. That fact alone made the other restrictions a lot more bearable. And it still worked.
A short lockdown, combined with strict masking rules, got the worst coronavirus outbreak in the world under control, very quickly.
It might be time for other countries to think about doing the same.